Beta testing is underway: The first LinkNYC units are up and running in Manhattan, including digital ads from several advertisers.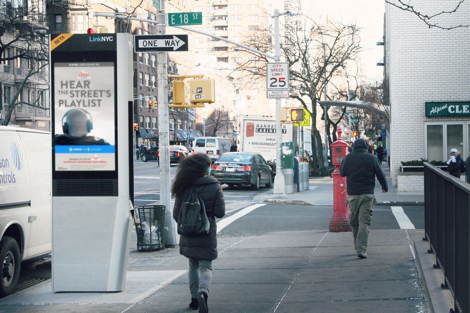 LinkNYC, which will become the world's largest and fastest free municipal Wi-Fi network once fully deployed, has officially started to roll out in the city, with Wi-Fi and ads going live for the first time last week. There are now 11 units up on Third Avenue, beginning at 14th Street through 45th Street. There will be 510 Links across all five boroughs by the end of July in phase one.
As part of this, one of Link's first advertisers, MillerCoors, has teamed up withShazam to allow New York residents and visitors to discover NYC through unique, neighborhood-specific playlists, comprised of the most popular songs that New Yorkers are tagging.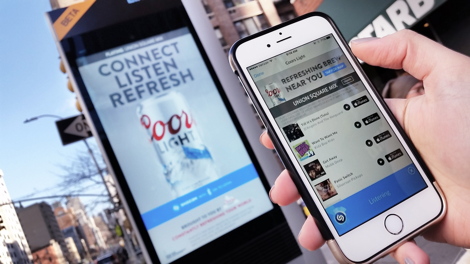 Using data from Shazam searches, Link can determine the most popular songs in a particular neighborhood; through Bluetooth, anyone near a Link (who opts in) can open the Shazam app on a smartphone, and a local curated playlist will open within Shazam. All people have to do is walk up to a Link, open the Shazam app and tap the listen button. Playlists are freshly updated every 15 minutes.
This ad campaign has been developed with IPG Media Lab. Other advertisers also up on the first LinkNYC units are: Nestle/Poland Spring, Pager and Citi.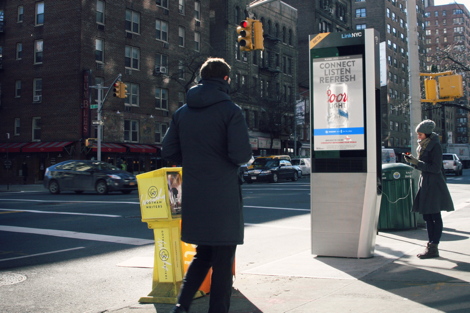 Once LinkNYC is at scale, it will be the largest digital out-of-home network in the world's largest media market – with 12,000 Internet-connected screens across the five boroughs of NYC. LinkNYC will bring free public services to the city, paid for entirely through advertising at no cost to taxpayers. It is expected to generate more than $500 million in revenue over the first 12 years turning New York into the one of the world's first Smart Cities.
Dave Etherington, executive vice-president and chief strategy officer atIntersection, part of the CityBridge Team responsible for developing, building, deploying and managing the LinkNYC network, says that not only is the exciting advertising up but that the WiFi network is working (it allows users free long-distance calling across the US), the keyboard and tablet are working, as is phone charging, while other services are either working or soon will be.
"One of the great things is that we are constantly looking at improvements as we install the units," says Etherington. "This is our Beta test, and we'll be rolling out in all five boroughs. With the advertising, like that of MillerCoors and others, we are creating interesting moments of engagement. We run a loop of six advertisements. With MillerCoors, we are using Shazam data by each location in real time.
"Nothing unlocks the sprit of the city more than music. And you can see how scalable this is, as we roll out the Links. It will be a platform for this type of advertising. LinkNYC can be a repository and transfer of anything: music, art, film, theatre. Advertisers can leverage this. And it can be done by location, by geography."

The first Link went up Jan. 4 and the MillerCoors advertising is exclusive to LinkNYC.
"It has already inspired others to rethink the abilities of OOH," says Etherington."This is ushering in a a whole new age of innovation through technology. LinkNYC represents a fantastic, dynamic vehicle for advertising. It really redefines what we are capable of."